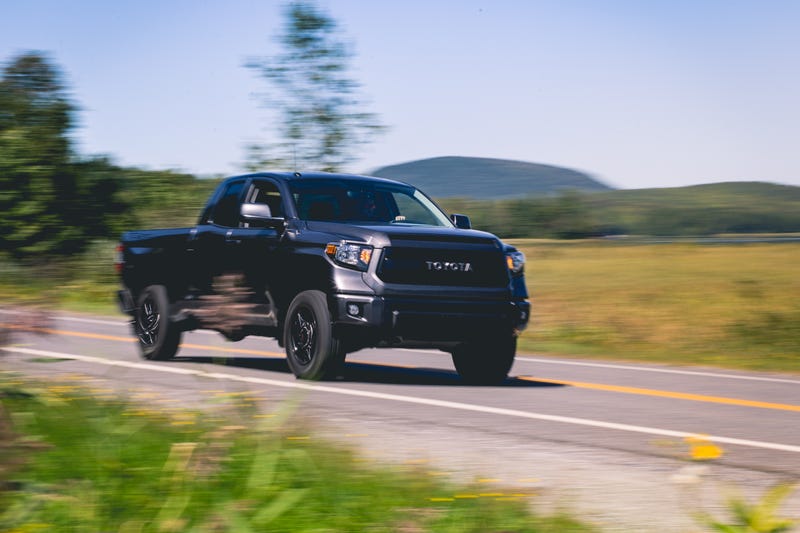 Trucks are hard to review. Especially when you're just some dude with no equipment to evaluate their towing capacity. So what do you do when you end up behind the wheel of a lifted half-ton truck designed to jump over sand dunes?

You drive the snot out of it. That's what I did, and since Montreal is an automotive hellhole these days due to over 1000 construction sites across its metropolitan area, I needed some air. So I drove as far up the Saint-Lawrence river as I could - with a TRD Pro. Lulz.
For those who don't know where Percé is, it's Québec's eastern-most tip. It's also home of the famous Rocher Percé, a gigantic rock monolith that sits in the Atlantic ocean with a giant hole through it as if it were staring at you from the distance. That GPS shot up there was taken at Rivière-du-Loup, halfway through my trip. Total distance to Percé from Montréal is almost 1000 km.
Rivière-du-Loup is also where everything starts to become very desolate and remote. Modern Québec as we know it suddenly becomes a very quiet, cool, and rural landscape. Up there is the Tundra parked next to the Saint-Lawrence river just past RDL. You notice how wide the river has become at this point, and can barely see on the other side.
And as you drive further and further East, the road becomes seriously beautiful. Here I was past Matane, where the Saint Lawrence starts to enter the Atlantic ocean. Now you can't see on the other side at all, and the view is magnificent. By the way, the Tundra TRD Pro is a formidable highway cruiser, that TRD offroad suspension is compliant and smooth, even on this perfectly paved road.
Once in Percé, the view is mindblowing. It's also rather cool up there, which was a good thing considering Montréal's been bathing in massive humidity heat all summer. I also enjoyed the Tundra's 6.5 foot bed as it made a formidable hotel room on the ocean front.
In the picture below, you can see the famous Rocher Percé rock sitting there in the middle of the ocean. when the tide is low, you can actually walk up to it, and it's freakin huge.
As for the TRD Pro, well except for massive gas bills due to its 14.5L/100 km consumption average, it proved to be a very comfortable road tripping machine.

But does it even offroad? Of course it does. Don't worry, I did a full review of the TRD Pro, complete with Myle Appearance photography. I even took the damn thing in a sand pit with a bunch of dirt bikers to try out its so-called offroad chops.
Click here to check it out.