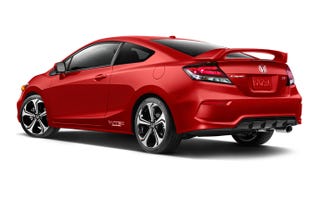 As you may know by now, naturally aspirated engines are becoming a rare breed. Strict emission regulations and fuel economy standards are forcing car manufacturers to go towards more efficient turbocharged units. But some brands have built their reputation around the naturally aspirated philosophy. Take BMW for example. When they ditched their magnificent double VANOS engines in their M cars, it sent a shiver down the backs of the brand's faithful. Gone was the instant throttle response and high pitch wail of a hardworking, small displacement engine. BMW did however leave the NA world on a high note with the E90 M3 and E60 M5. These cars will be remembered forever as some of the best sports cars ever built.
So what about Honda? They've been going at it for 25 years now with their famous VTEC system, proving to the world that you don't need a big fat snail under the hood to deliver decent power. DOHC VTEC engines are what set Honda apart from the Japanese crowd. They emit great sounds, have an instant throttle response, are always eager to rev, and are as reliable as a wood burning stove.
But, sadly and, inevitably, Honda is also going down turbo lane. A new brand image is underway. We've seen their new 2.0 turbo unit expected to be released in the upcoming Civic Si/Type R. It will undoubtedly be a fantastic piece of engineering, like all Honda engines really. Most importantly, it will help Honda take on the current batch of turbocharged pocket rockets while meeting emission demands.
Don't get me wrong, Honda's present day K24 engine is a wonderful thing, and I'm thankful it still exists. In a world of muffled, flat, and somewhat soulless torque curves, Honda's little 4 banger, albeit a bit low on torque, remains one of the industry's most entertaining offerings. It's peppy, fun to rev, very fun to shift, and sounds amazing. But is this what we'll remember of Honda's NA legacy?
What I'm all about is that Honda's back catalog of naturally aspirated, high revving engines is filled with success. Names like CR-X, Prelude, NSX, S2000, Integra, Si, Si-R, and Type R will forever remain in the memories of automotive enthusiasts.
Furthermore, let's not forget that Honda once challenged exotic brands like Ferrari in the horsepower per liter war. Back in 1992, the Japan only, Civic Si-R developed 168 horsepower from a tiny little 1.6 liter unit. No other hot hatch at the time could brag about that.
They did it again in 1997 with the fast and furious Integra Type R. At just 1.8 liters, it churned out an impressive 197 hp at a proper 8,500 rpm redline.
But it was the S2000 that really raised the bar to a whole new level. At 2.0 liters of displacement, the roadster's F20C engine developed a whopping 237 hp, beating the record at the time set by Ferrari for the highest specific power output for any naturally aspirated engine.
Honda had beaten the Italians at their own game.
So, with that said, I'm kind of sad to see Honda leave 25 years of NA sweetness behind with the current Civic Si. I'd like to see the brand leave on a high note with a properly high strung, high compression, 8,000 rpm, hardworking little mill. Something like a final edition Civic Si, with around 250 hp. Releasing such a car would be a last hurrah to more than two decades of engineering greatness that inspired an entire generation of car enthusiasts.
Ah, the power of dreams.
---
Contact the author: williamclavey@gmail.com

Photo credit: Honda Canada
Like Clavey's Corner on Facebook
Instagram: claveys_corner